We value our clients' experience at Timberview Animal Hospital. If your pet or animal is currently a patient, please feel free to fill out our form and write a review.
Click here to let us know how we're doing!
Here is what some of you have said:
-Our puppy loves going to the Timberview Animal Hospital! Timberview is a state of the art facility that is invaluable to us as dog owners due to the expertise, caring and professionalism of Dr. Vicki Wynn and her wonderful staff. Our puppy has utilized many services that Timberview has to offer, including shots, medical care due to injury, and uses the boarding facilities on a frequent basis., We couldn't be happier with the results. Dr. Wynn is exceptionally knowledgeable and compassionate at the same time, and we have a great respect for her due to her positive interaction with our puppy. We have also attended informative dog training seminars at this facility. Dr. Wynn and her staff at Timberview welcomed our puppy as a member of their own family (even when he was not on his best behavior) and we look forward to a long relationship with them as our puppy grows into a happy, healthy adult dog. Timberview Animal Hosptial is highly recommended. We wouldn't go anywhere else! - Michele F.
-Vicki and her staff have been more than amazing to us. I can't thank you enough for all the amazing care you've given Luna and Cali. THANK YOU SO MUCH - Veronica C.
-Dr. Wynn came highly recommended to us. We met her and were so impressed with her care and knowledge, her team, and her advanced facility. This became critically important to us this past weekend when our 7 1/2 year old Sheltie (Shelby) got a bout of Pancreatitis. Dr. Wynn was beyond words amazing - with both our Sheltie in early diagnosis and care which I know made all the difference, and with our family and emotions and fear. We had lost a dog a few years before to Pancreatitis largely due to a Vet who didn't recognize the signs and didn't provide proper care. Dr. Wynn kept in touch with us and assisted throughout the weekend. Shelby made a quick recovery and I am going to follow all Dr. Wynn's recommendations to keep Shelby healthy! I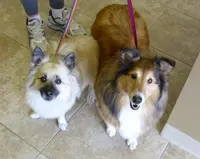 also respect that her recommendations are on target for each treatment, vs. other vets I have seen who recommend expensive treatments that may not be necessary. I believe Dr. Wynn saved Shelby's life, and she sure became part of our family through all of this. Thank you Dr. Wynn and staff - we appreciate you more than words can express! - Elizabeth and Brian D. (and Shelby and Tucker!)
Dr. Vicki and the team are amazing! We are so lucky to have found a special vet so soon after moving to the Springs! Thank you so much for helping us take care of our (now) 4 babies! We appreciate you all so much! - Krystal and Keith N.
-I would like to thank Dr. Wynn and her whole staff for the care you gave my foster dog Mystique. Dr. Wynn did an amazing job on her--she did a total exam finding a broken tooth and pulled it while she spayed Mystique on September 1st. Mystique is now healed, in no pain, and learning the good life with us. She is now a very happy and playful puppy. I just want to thank you all for the incredible care you gave not only our baby but for us as well!- Leda B.
-Dr. Wynn and her staff have been incredible with my dogs! They make it a point to build relationships with the pets they see, as well as get to know the pets' owners. I have been continuously impressed with their care, attention to detail, knowledge, and desire to do what is best for the animals. I can always trust that my dogs will be well taken care of and looked after while they are there! -Jenna J.
-I just got a new puppy a few months ago and I found Timberview near my house to bring her. Dr. Wynn and Amanda are both great with her and do everything they can to make sure that she is cared for the best way possible. They take time to explain everything about what they sell and recommend without being pushy so you can make the right decision. I recommend this place to anyone. -Trey Q.
-Wow! Dr. Wynn *hooked me up* with exceptional service on the day that I needed it - efficient with an attention to detail that made possible the paperwork I needed to move overseas with my dog. GREAT VET. - Carmen
-Awesome place. Great service and friendly folks with reasonable prices. - Ken
-We can't say enough about how much Dr. Wynn and her team have done for our dog. We have an elderly mixed breed that has kidney disease and arthritis. After moving to the Colorado Springs area and seeing Dr. Wynn, our dog has had significant improvements in mobility and overall health. Although she is 16, her quality of life is better than ever thanks to Dr. Wynn's care. I wouldn't trust my dog to anyone else. -Rachel
---